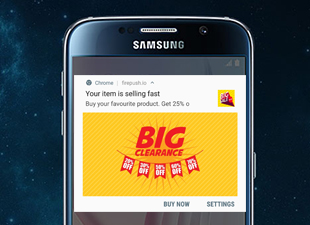 Australia Post, DHL, StarTrack, Labels, Rates & Tracking by StarShipIT
Shipping

27
StarShipIT simplifies and automates the process of fulfilling on- and offline orders with live rates, labels, branded tracking and more
 



ShippyPro
Shipping

2
With ShippyPro you can connect your Shopify store: all your orders are imported and you can ship them in one click!

FB Messenger Remarketing
Social Media
Instead of buying retargeting ads on Facebook to recover abandoned carts, contact these shoppers automatically through FB Messenger for free

Product Price Notification by Appsonrent
Sales

4
Price Notification is help you to get your customer back your site with the help of variety of product notification


My Product Registration
Customer Service
Work out of the box, provide customer register purchased products, allow shop admin to manage and manipulate registrations.


Purolator LTL Freight Quotes
Shipping
Display your negotiated Purolator LTL freight rates in the shopping cart. Configurable options let you tailor the results.

Pressure Cooker - Increase Sales & Urgency
Marketing

1
Turn Up the Pressure to Buy by Showing Shoppers How Many Other People Are Viewing the Same Product


SEO PLUGIN by HIT REACH
Marketing

1
SEO app for Shopify. Advanced features trusted by large brands. Integrated leading SEO tools like SEMrush & Majestic. Free trial.


Remember to Ship
Shipping
Receive email reminders when you forget to fulfill an order in your store. Never forget to ship again!


Request a Quote by Globo
Sales

1
Allow customers to ask for a quote in your online shop! As a shop owner, you can manage the quotes and custom your quote form.


Southeastern (SEFL) LTL Freight Quotes
Shipping
Display your negotiated Southeaster Freight Lines LTL freight rates in the shopping cart. Configurable options let you tailor the results.


Augen - Next Generation Of Onsite Personalization
Sales
Next Generation Onsite Personalized Recommendations Based On Predictive Analytics And Natural Language Processing


Nitro Discount & Upsell
Sales
Nitro Discount & Upsell is an easy to install and easy to configure app which allows your Shopify site to have unlimited discount campaigns


Super Badges
Sales
Make your products stand out with cool badges that instantly grab your visitor's attention and increase your conversion rates substantially.


SEO Rank Watcher
Tools
Shopify's most precise SEO ranking tool. Includes geo-tracking, report scheduling, historical overview, customization, competitor analysis..

Make it Rain
Tools
When a new order is paid, you get notified in Slack with an amount and dollars-themed GIF. Jokey way to motivate yourself and a team.


Floating Category List
Tools
Give your customers the category list they're used to seeing on other sites to help them find your products. No coding or sidebar required.


RealTime Notifier
Tools
Keep staff members, vendors informed whenever a new order is created, product inventory is reduced, new customer is signed up and many more.


Here Till Noon
Tools
Here Till Noon creates schedules for each of your stores and displays the hours on your store front.
• Last Week: 8.73% clicked on this app

Analytics - Free Real-time Reporting
Reporting
Monitor the pulse of your Shopify store and react to opportunities for growth in real-time. Best part - it's FREE!