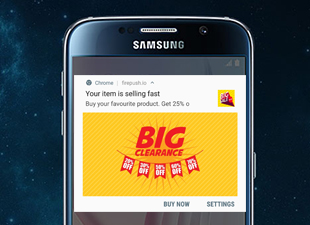 Blog Studio
Tools

1
Use Blog Studio's brilliant drag-and-drop interface to tell the unique story of your brand without writing a single line of code!


Instagram Feed with Tagging and Custom Gallery
Social Media

3
Instagram Feed with Tagging multiple products on an image. We have a custom Image gallery (LOOKBOOK) and Video Gallery. Analytics included.

Smart Social Login
Social Media
Smart Social Login Increase social networking power on your shop and Customer can easily login with their existing social accounts.


Ecommerce Shipping Solution by Zepo Couriers
Shipping
Ship through Fedex, Dotzot, Aramex, DHL and BlueDart at highly subsidized rates. Schedule shipments with just a few clicks in India

InstaShop
Social Media
Add a shoppable Instagram gallery to your store. This app is easy to use, packed with features other apps charge for and it's FREE!


Ship&co
Shipping
Print Shipping labels and Invoices for your Shopify Store(s).
 The only International and Domestic Shipping Tool for sellers in Japan.


Happy Shoppers
Marketing

1
Show customers how many people are looking at a specific product in your store at any given time. Replicate the feel of a busy retail store.


Ultimate Reorder
Sales

1
Make a key part of your customer retention easy; allowing your customers to reorder from their previous orders. Plus reorder from the admin!


Multilingual shop by GTranslate
Tools

2
Translate Shopify with Google Translate multilanguage app to make your shop multilingual. Reliable localization app for Shopify.


Sitemap Page - HTML Sitemap
Tools

1
Add an HTML Sitemap to link all pages, collections, products, and blog posts to improve usability, conversions, and SEO ranking.


Product Comparison
Sales
Let your customers Self Shop by comparing products side by side with specs and features you created! A proven way to increase sales!


Visitor Blocker
Tools

1
The best app for ban the fraud users to visit your store from high risk countries.


Happy Carts
Marketing
Recover your customers abandoned checkouts. Send reminder emails and increase conversions by thousands!


OTP on cart
Tools
With OTP on Cart App you can get the cart validated through OTP (One Time Password) before proceeding towards checkout.

Product Warnings & Checkout Alerts
Tools
Show custom warnings for the specific products when they are added to cart. Give the most important information to your customers in time.
• Last Week: 15% clicked on this app


Product Designer by Storex
Tools
Boost your sales by letting your customers design their own products with custom images and texts. FREE installation.