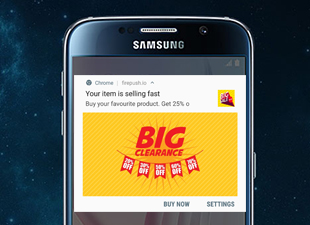 Oberlo
Inventory

1010
Import hundreds of products to your store and ship directly to your customers – in only a few clicks.


paidify
Accounting
Send invoices to your customers with ease. We will automatically email a clean and good-looking invoice to your customers.


PepperMetrics
Reporting
Our state-of-the-art predictive algorithm utilizes historic data from your store to gain actionable insights that help you retain customers.


Social Share Bot
Social Media
Social share app allows you to share new products and collection in various social media networks such as Twitter, Pinterest automatically.


Wishlist Product
Sales

2
Advance Wishlist which doesn't require Member login and also share the wishlist with friends with easy unique link.


Conversion & Sales Booster
Sales

3
Converting potential sales into real sales. Making you more money everyday! Two Week FREE Trial!


Countdown Sales Timer
Tools

2
Get customers to act fast with a real-time countdown bar designed to boost conversions and drive sales.

Launchpad
Sales

1
Save time by automating the the launch of sales, product drops and inventory restocks. Track success with a real-time analytic dashboard.


Mood Popup
Marketing
Create messages matching shoppers mood. Customize popups with messages to match visitors location, time or weather


Watch People Shop
Marketing
Sell More With Social Proof. Show your customers they are in good company by letting them see where and when others are buying.


eCondom
Tools

1
Protect your store from copyright infringement! Prevent people from stealing your images & texts, hide your best sellers page & app info…


Personalized Exit Offers
Sales

1
Exit-intent popup that offers a coupon for the specific product that your shopper was viewing


Product Tags Translator
Tools

1
This app make you store able to use "product tags" in non-English text. Improve your customer's experience by making tags in their language.


Hive
Marketing
Reinvest commissions you would normally pay marketing affiliates back into groups of customers as store credit.

FlashPop
Sales
Convert visitors into paying customers by notifying them about an ongoing flash sale from anywhere in your store's pages


Filter Cat
Tools
Add filters and sorters to each Collection on demand with flexible layout style.
 FREE CUSTOMIZATION service provided to match your brand!


Product Colors
Tools
Link your products of different colors using swatches. Break the 100-variants limit and display as many colors per product as you want!


Moodboard by Widgetic
Tools
Display thematic collections of products to inspire your visitors.


Gift On Order
Tools
Shopify Gift On Order will enable you to assign free gifts with order exceeding a set amount and much more.


Product Compare by NextGenLabs
Tools
Increase sales by allowing your customers to easily find the perfect product for them.


Calconic - Calculator Builder
Tools
Engage your store visitors with an interactive calculator. Build any calculator you want and add to your store.


Limitsify – checkout limits done right!
Tools
Super flexible limits for orders: by price, weight, vendor, product, number of items, identical items in less than 5 mins or moneyback.
• Last Week: 22% clicked on this app


Tapcart - Mobile app for your store
Sales

1
Turn your Shopify store into a custom iPhone app.